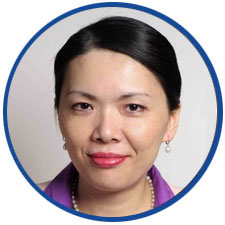 Chiung-Hui Huang
Chiung-Hui Huang is a member of Henrichsen Law Group, where her practice primarily focuses on civil litigation involving commercial tort, business transactions, partnerships, real estate, and bankruptcy matters. Ms. Huang also has substantial experience in immigration appellate practice and contested divorce.
Ms. Huang has handled various aspects of litigation from inception through resolution with experience in representing Chinese companies and individuals in U.S. courts. Ms. Huang earned her J.D. degree from American University, Washington College of Law in 1999. Ms. Huang also earned a Master's degree in Pacific International Affairs from the University of California at San Diego in 1995. Ms. Huang was awarded her B.A. degree in Political Science from National Taiwan University in 1992.
Ms. Huang is admitted to the Bars of the State of New York and the District of Columbia and also is admitted to practice before the United States District Courts in the Southern District and Eastern District of New York, as well as the United States Court of Appeals, Second Circuit. Ms. Huang speaks fluent Mandarin and Taiwanese.
Ms. Huang can be reached at (646) 378-4421 or chuang@hslawyers.com.