Worker Exploitation – Migrant Children Work Brutal Jobs Across US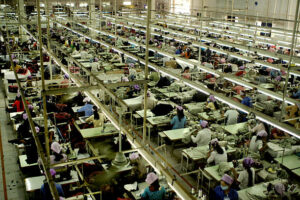 Worker exploitation takes extreme forms, even in the United State of America.  A New York Times investigation has found that a significant number of migrant children who arrive in the US alone are ending up in some of the most punishing jobs in the nation. Their employment has extended into trades in every state and flout century-old child labor laws. While growing slowly over a decade, this work force of children is largely coming from South America when the pandemic worsened economic anxiety and child protection laws have deteriorated. It has been estimated that about two-thirds of all unaccompanied migrant children end up working jobs full time, and around the US, teachers are reporting that many middle and high schoolers are working 12-hour shifts. Children as young as 12 have been working in slaughterhouses, auto part and sock factories, and construction. Kids are roofers, food deliverers, and harvesters of coffee beans.
Child migrant labor is benefiting global corporations as well as under-the-table operations. Some large employers have not required their staffing agencies to verify the ages of their workers, and turn a blind eye to young faces on their factory floors and back rooms. Many of these jobs taken by the adolescents are grueling and paid poorly, and some have been injured or killed during their employment.
Henrichsen Law Group, PLLC represents employees only in all types of employment and labor law matters, including federal and state anti-discrimination laws (Title VII, ADA, ADEA, FMLA), sexual harassment claims, wage and hour law claims, employment contracts and non-competition agreements, and employment and related business tort claims. Neil L. Henrichsen has over 30 years experience fighting for the rights of working people.  For a confidential consultation, please contact nhenrichsen@hslawyers.com.